This converter allows the conversion of Calamus fonts into the METAfont format from the TeX package. It was mainly done by Christoph Pagalies with help from myself with the file formats.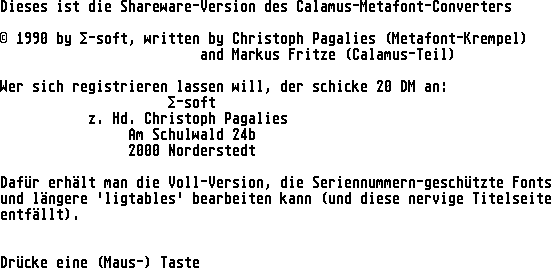 Files
German ReadMe
Erstmal vielen Dank für Ihre Bestellung!
Kaum habe ich die Shareware-Version upgeloaded, schon fällt mir etwas ein, daß ich vergessen habe:
Da man keine kompletten deutschen Zeichen abspeichern kann, sondern TeX seine Äs, Ös und Üs aus den normalen Buchstaben und zwei Punkten zusammensetzt, müssen (logischerweise) auch besagte Punkte erzeugt werden. Es empfiehlt sich deshalb, in die Font-Batch-Datei zwei Zeilen einzufügen
25="ß"   (+-------------------------------------------------)
127="ä"  (-+-+----------------------------------------------)

(o. ä., je nach Font). Das "a" schaltet man auf unfill (und/oder löscht hinterher manuell die unfill-Befehle), nur die Pünktchen werden gezeichnet.
Außerdem wurde bisher nirgendwo erwähnt, daß man alle Zeichen auch über Alternate-Zehnerblock erreichen kann (Alternate drücken, ASCII-Code des gewünschen Zeichens im Zehnerblock eintippen (dezimal), Alternate wieder loslassen).
Auf vielfachen Wunsch kann die Version 1.1 nun nicht nur 10, sondern 40 Funktionstasten verdauen, um auch die Billig-Fonts zu bearbeiten, die Calamus beiliegen. Die Funktionstasten haben sind nun folgendermaßen belegt:
          F1-F10: Die ersten 10 Linien
    SHIFT-F1-F10: Die nächsten 10
ALTERNATE-F1-F10: Nochmal 10
   CONTROL-F1-F10: Die letzen 10

Die 1.3-Version kann ein gleiches Zeichen mehrfach schreiben; es kann dann manuell weiterbearbeitet werden (wurde gewünscht). Also kann man z. B. ins Font-Batch setzen
10="A"   (++------------------------------------------------)
11="A"   (++------------------------------------------------)

und das Calamus-A (das im Editor immer noch unter A zu finden ist), wird auf die TeX-Zeichen 10 und 11 gelegt. Wenn Funktionstasten beim A gedrückt werden, werden alle entsprechenden Zeilen des Font-Batchs geändert.
Außerdem wird der Hintergrund jetzt mit einem richtigen BITBLT gerettet; das Programm ist damit zwar immer noch nicht auflösungsunabhängig, sollte aber notfalls auf TT-Mittel u. ä. laufen. Ich kann es mangels TT leider nicht testen.
Die 1.4-Version setzt nun die METAFONT-Variablen "smoothing" und "autorounding" auf 0, weil die zugehörigen Funktionen bei convertierten Fonts nur stören (Hallo Erik-Jan!).
Dann gab es schon seit Urzeiten eine Funktion, die ich hiermit dokumentiere: Wenn man ein Zeichen anzeigt und dann die Undo-Taste drückt; dann wird dieses einzelne Zeichen in die .MF-Datei geschrieben. Deshalb wird auch bei der Verneinung der Frage, ob alle Zeichen geschrieben werden sollen, ein Dateirest geschrieben. Diese Möglichkeit ist für Fonts wie z. B. Zapf Dingbats gedacht, die viele Zeichen beinhalten, von denen man vielleicht nur einzelne benutzen möchte.
In der 1.4.1-Version wurde ein Bug behoben, durch den die Commandline- Auswertung nicht funktionierte. Man kann jetzt wieder *.FBT als Anwendung für den Converter anmelden. Außerdem kann man jetzt mit den Cursor-Tasten rechts und links zum nächsten BELEGTEN Zeichen vor- oder rückblättern.
Vorsichtshalber möchte ich noch auf folgendes hinweisen:
Die vorliegende Version des Calamus-Metafont-Converters (mit Seriennummer und Namen) ist KEIN Shareware-Programm. Alle Rechte, insbesondere das Recht auf Vervielfältigung vorbehalten. Die Shareware-Version, die sich im Ordner META_CON.SHR befindet, darf jedoch frei kopiert werden.
Das vorliegende Programm und die zugehörige Beschreibung wurde mit der größten Sorgfalt erstellt. Trotzdem sind Fehler nie ganz auszuschließen. Daher möchten wir darauf hinweisen, daß wir weder eine Garantie für die Fehlerfreiheit geben, noch die Haftung für irgendwelche Folgen, gleich ob durch Fehler in der Beschreibung, in der Software oder in der Hardware verursacht, übernehmen können. Wer einen Fehler findet, kann ihn mir (papier)schriftlich oder per Maus (Christoph Pagalies@HH2) oder per EMail in der ∑-Soft-Mailbox mitteilen.
Updates via Mailbox:
Wie bei allen ∑-Soft-Produkten kann man auch beim Converter Updates über die ∑-Soft Mailbox erhalten. Die Daten:
~~Tel: (040) 526 71 85, 8N1, 300–14400 Baud, HST, V32(bis), V42~~
Die Box ist öffentlich; es kann sich also jeder eintragen und Infos über die neusten Versionen abholen. Wer Updates auf registrierte Programme haben möchte, muß uns nochmal eine Postkarte mit Usernamen, Realnamen, Adresse, Seriennummer, Unterschrift schicken (damit wir überprüfen können, wer eins haben will). Ab dann kann man beliebig häufig (und natürlich kostenlos) aktuelle Versionen downloaden. Nähere Informationen in der Box.
Die Telefonkosten sind übrigens vielfach günstiger als das Porto für einen Brief mit Diskette; außerdem hat man das Update dann sofort.